Balbriggan Mini Maker Day
Date: Saturday 23rd April
Time: 10am – 5pm
Location: Balbriggan Library, Saint George's Square, Balbriggan, CO. Dublin. K32 TW27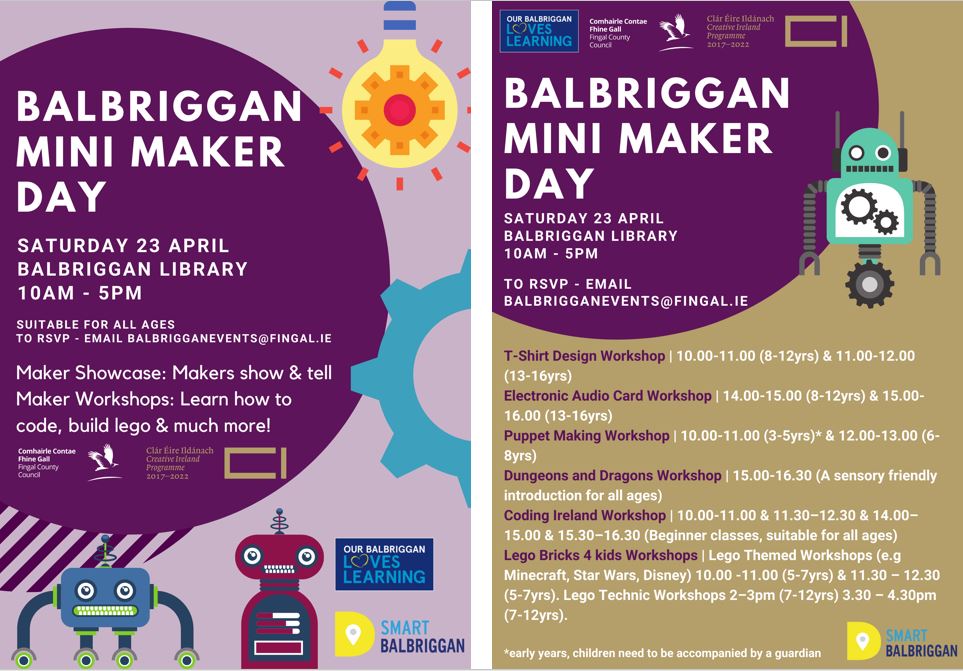 About the day
Balbriggan Mini Maker Day is open to visitors both young and old for a day of family-friendly workshops and maker showcases. On the day we'll have a mix of workshops suitable for all ages, from coding and game crafting to lego making and LED art. There will be an abundance of activities for small kids and big kids too. At our show and tell area Makers will showcase their crafts and you'll discover the art of making. We'll have the Smart Dublin and Smart Balbriggan Teams giving a virtual reality tour of Balbriggan Town Centre, where you can step into the future of Balbriggan!
Admission is entirely free. We provide all the materials and equipment you need. We do recommend you register for workshops to secure your spot. Or just drop by and visit our Maker Showcase area!
RSVP: To register for workshops please email BalbrigganEvents@fingal.ie
Workshops:
T-Shirt Design Workshop: Using a mixture of digital and analogue techniques you will create your own personalised t-shirts using computers, scissors, vinyl, and lots of fun!
Workshop times: 10.00-11.00 (8-12yrs) & 11.00-12.00 (13-16yrs)
Electronic Audio Card Workshop: Using art materials and a miniature audio kit you will design a personalised card and record a message inside
Workshop times: 14.00-15.00 (8-12yrs) & 15.00-16.00 (13-16yrs)
Puppet Making Workshop: Puppet making with Kim Jenkinson, you and your child can have fun together creating a giant bug puppet using a mix of fabric, card, paper and ribbons.
Workshop times: 10.00-11.00 (3-5yrs)* & 12.00-13.00 (6-8yrs)
Dungeons and Dragons Workshop: Discover the magical world of Dungeons and Dragons and the joy of making and playing boardgames.
Workshop times: 15.00-16.30 (A sensory friendly introduction for all ages)
Coding Ireland Workshop: Learn the basics of how to code!
Workshop times: 10.00-11.00 & 11.30–12.30 & 14.00–15.00 & 15.30–16.30 (Beginner classes, suitable for all ages)
Lego Bricks4Kidz Workshops: Learn, build and play with Lego!
Lego Themed Workshops (e.g Minecraft, Star Wars, Disney)
Workshop times: 10.00 -11.00 (5-7yrs) & 11.30 – 12.30 (5-7yrs).
Lego Technic Workshops
Workshop times: 2–3pm (7-12yrs) 3.30 – 4.30pm (7-12yrs)
*early years, children need to be accompanied by a guardian
Workshop times: 2–3pm (7-12yrs) 3.30 – 4.30pm (7-12yrs)