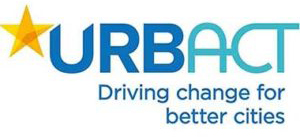 URBACT is all about integrated sustainable urban development. URBACT is helping Irish towns and cities to come together to develop solutions, learn, network and build capacity.
The programme has four main objectives:
Capacity for Policy Delivery
Policy Design
Policy Implementation
Building and Sharing Knowledge
Ultimately it is about providing training and tools to develop better urban policies, making our urban centres better places to live.
Find out more at URBACT

IPlace – Finding our niches for sustainable local economic development
Our Balbriggan began its iPlace journey in 2019. The project involves a network of 10 small EU cities/towns which aim to produce robust economic development strategies for their cities by targeting their own specific economic niches and developing ecosystems to support the development and growth of urban innovation and entrepreneurship. Network partners focus on understanding their local economic strengths, revitalising their local economy, adapting to future economic changes and building sustainable and resilient cities.
iPlace aims to answer three questions:
Can small cities compete with large cities for talent and investment?
What good practices show how small cities are able to use opportunities for 'new' local economic development?
How can ten small cities pool their knowledge and assist each other to initiate actions with a good possibility for success?
The network is managed by the lead partner Amarante in Portugal and alongside  Balbriggan, includes the cities of Gabrovo-Bulgaria, Heerlen-Netherlands, Kocejve-Slovenia, Saldus-Latvia, Medina del Campo-Spain, Grosetto-Italy, Pori-Finland and Parnu in Estonia.
This Urbact Initiative has a programme set over two years and is set to conclude in June 2022.  Using Urbact tools the Balbriggan iPlace Team is developing an Integrated Action Plan (IAP), informed by lessons learned from Network Partners. The development of the IAP is directed by the iPlace Urbact Local Group (ULG), which draws its members from Fingal County Council and local economic & community stakeholders. The ULG meets quarterly to share updates and drive the development of the IAP which stakeholders then collaborate to implement.
The Balbriggan iPlace team are currently considering the areas outlined below in the formulation of the Integrated Action Plan (IAP):
Creative Exchange
Main Objective: To organise regular networking opportunities for those involved & interested in growing cultural & creative enterprises.
'in-between' opportunities
Main Objective: To activate 'in-between' spaces & places to showcase cultural and creative talent and assist develop & grow opportunities for local niche enterprises.
New spaces for enterprises
Main Objective: To convert old buildings and spaces into new sustainable opportunities for niche enterprises.
Creative arts industry plan
Main Objective: Strategic Document – Sustainable Cultural & Creative Arts Industry.
The Balbriggan iPlace Project Team worked with Smart Balbriggan to hold a Hackathon in Balbriggan in October 2021. A 'hackathon' is an event that brings together lots of people from different backgrounds to work together to come up with technological solutions to challenges facing their towns. The Hackathon had two parts – the schools Hackathon took place over one week with three schools in Balbriggan participating in combined workshops from the Academy of Near Future and What the Hack pitching their ideas, with the winning pitch based on the theme -preventing food waste presented by the team from Colaiste Ghlor Na Mara.   
The second part consists of a hybrid one day Hackathon event which took place virtually and in person in the Bracken Court Hotel. The winning pitch 'Think Tank' focused on the community challenge which aims to build civic pride through a community podcast, town hall workshops and reporting improvements.
The iPlace Programme is due to finish in June 2022 when all the Network Partners will come together to present their IAP's for sustainable local economic development in their cities.
The Balbriggan iPlace team continues to work with key stakeholders and partners to develop ideas and implement actions from the IAP to develop a unique economic niche for Balbriggan which leverages the existing talent base in the town.