In another step in an exciting few years for Balbriggan, construction of a destination style skate park is set to commence at Millpond Park and will be available for use within the first half of 2019.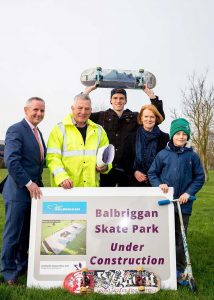 The classic plaza style facility is one of the first elements of the transformation of Balbriggan, is designed for families and spectators to appreciate as well as users and will cater for a wide age-range and level of experience.
Freestyle Skateparks, who have designed and built over 600 skateparks in the last 30 years, have been contracted by Fingal County Council to build the skate park in Balbriggan.
As in the Our Balbriggan process, community engagement has played a major part in the skate park story, with the Balbriggan Skate Park Committee and local users liaising with Fingal County Council.
A key element of the project was that the design of the skatepark be informed by the stakeholder feedback and complemented the character of Millpond Park.
The construction of the skate park follows the announcement of the Balbriggan socio-economic strategy in 2018.
The strategy will deliver 20m-plus transformation of Balbriggan's infrastructure, amenities and public spaces, including the construction of the skate park.
"It is heart-warming to know that the local Balbriggan Community and Fingal County Council can work so constructively together towards the completion of such well-sought-after recreational projects," said the Balbriggan Skate Park committee.
"We know that the skaters and wider Balbriggan community alike will be very grateful for the support given to secure this well-needed sport facility."
Fingal County Council's Director of Planning and Strategic Infrastructure, AnnMarie Farrelly, said: "The skate park in Millpond Park will be a valuable addition for Balbriggan. The provision of services and amenities that allow residents access to public and recreational spaces is vital in developing healthy and happy communities."
Chief Executive of Fingal County Council, Paul Reid said: "Fingal has the youngest population in Ireland so it is vital that we invest in services to improve their standard of living.
"The construction of the skate park in Balbriggan will contribute to this as it allows young people to enjoy the amenities in their local area.
"The development of the skate park is an example of how the Balbriggan Strategy can positively affect Balbriggan residents.
Community engagement has allowed Fingal County Council to work with Balbriggan residents to shape and influence the order of priorities and I am delighted to see progress being made with the commencement of the skate park development."