About Alison O'Grady
I am multi-disciplinary visual artist and my main passion is drawing and illustration. Art was always my first choice subject at school and when I graduated from Balbriggan Community College in 1989, I continued my studies in Art College for five more years. Qualifying in Design Communications and Graphic Design Technology, I began my career in the graphic design world. However, I continued to push and explore my creativity and decided to return to education to qualify as a Youth Art Worker in 2007 and then, in 2011, I qualified as an Art Teacher.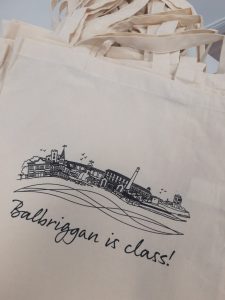 I have enjoyed fantastic experiences of teaching within the educational world from Secondary Schools, Community Education and Further Education College in Ireland to International Middle & High Schools, Government Art Programs, Community Art Studios and International Art Festivals in Bahrain and United Arab Emirates.
Having grown up in Balbriggan, I have a strong connection to the town; its beautiful coastline, heritage, wonderful history and of course, the people of Balbriggan. Much of my work is inspired by Balbriggan, and when I draw, illustrate or paint the buildings, landscapes or scenery that I adored while growing up, it brings me much joy. Each piece is created with love for the town that helped shape me. When 'Our Balbriggan' commissioned me to create a design to celebrate Culture Night with the theme 'Balbriggan is class' inspired by Andrew Coscoran's interview at the Olympics, I was delighted to showcase the town in an illustration.
My concept depicts Balbriggan bobbing on the waves of its beaches, it is a nod to the rich history and resilience of this seaside town, its fishing, the second oldest lighthouse in Ireland, its stately castles, the international and award winning hosiery industry, buildings that make Balbriggan instantly recognisable, buildings that are still in use to this day whether it be for business, education, sport, creativity, culture, communities or recreation activities. I hope that my illustration will spark joy for the people of Balbriggan town, maybe ignite happy memories and conversation of years gone by and inspire the years yet to come.