As part of the Our Balbriggan Rejuvenation Plan launched in May, we outlined 20 things which will happen in the first 12 months.
Things are hotting up, and over the next few weeks we will be bringing you a number of exciting updates showing your plan in action.
We have already enjoyed a number of fantastic summer festivals – and watch this space for some significant announcements of some very special happenings coming up which the whole area will enjoy.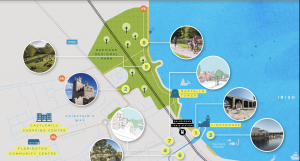 Number six on the Our Balbriggan list of 20 things in the first 12 months is to consult and publish a final masterplan for the development of the Bremore Regional and Amenities Park.
The Bremore park amenity area includes the Martello Tower, Boathouse, old public bath area and derelict Bells Cottage and boat house.
The masterplan offers the opportunity to breathe a new lease of life into this beautiful coastal stretch of Balbriggan.
One of the most popular choices on the Our Balbriggan survey, this will be a premier regional park taking its place alongside Malahide, Newbridge and Ardgillan with spectacular walkways and world-class play facilities.
What else would you like to see? Be bold, be ambitious, it's Our Balbriggan!
Get involved in developing the masterplan for the park, drop into the public workshop being held in the Bracken Court Hotel on Tuesday July 30 (6.30-8pm).
Pop an email to Fingal.DevelopmentPlan@fingal.ie if you are planning to drop by.
If you cannot attend, please do send your thoughts on the development of Bremore Regional Amenity Park to the same email address.