The Our Balbriggan rejuvenation journey has reached its first-year milestone of the five-year strategy plan to transform beautiful Balbriggan!
It has come a long way in a short time with thanks to you, the people of Balbriggan. In these uncertain times, the community spirit shown has been phenomenal. Locals, young and old, banded together to help those most in need in our town.
Here are just some of the many, many acts of kindness shown by the Balbriggan people in recent weeks:
Brian Creighton Cleaning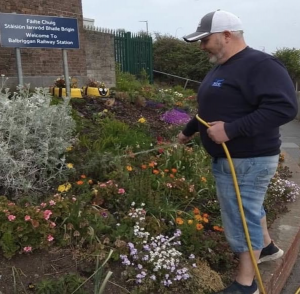 When Brian heard that Balbriggan Tidy Towns were struggling to water their plants he sprang to action. Covid 19 might have stopped Brian from being able to grow his new business but it didn't stop him from using the equipment he invested in to water the large flower bed at the train station and a new wildflower garden that we are trying to establish at George's Hill. He has agreed to keep up the watering for as long as it's needed. So thanks so much Brian, Balbriggan is famous for its community spirit and you're a great example of that today.
Also ALL Tidy Town volunteers for there work all year round, remember they meet on the front beach every Saturday 11.00am – Get Involved!
Kasia Wasiak
Well done Kasia Wasiak. Kasia, originally from Poland lives in Balbriggan her young family and owns her own photography business in Drogheda Street Balbriggan. As her business is closed at the moment and she wanted to make a contribution to the volunteers working in the community, Kasia started making Face masks from home. Kasia's masks have been distributed to a number of groups in Balbriggan and Balrothery completely free of charge.
Also the women of Balbriggan Women's Development Group (Inc PIC we shared on our Facebook feed of them in April I think?!) and all volunteers who have set aside time and donated facemasks during this time.
O'Dwyers GAA ladies
O'Dwyers GAA ladies completed the 1000Km with 2 days to spare but kept running & raised over €3,000 for Jigsaw and Balbriggan Cancer Support Group. WELL DONE LADIES.
Also all the members, volunteers and supporters of the great sporting clubs we have in our town from Boxing to Rugby and Cricket to Soccer and everything in between.
Local volunteers and business – Shop local 
Big thanks to the volunteers of the Balrothry and Balbriggan Self Isolation Group and the local businesses who have been so generous in their support to our most vulnerable.  Shops and services are at the heart of our communities – now more than ever – support local!