A year on from the launch of the Our Balbriggan Rejuvenation Plan, the transformation of Ireland's youngest town is taking shape, with substantial progress across a range of objectives.
Read the full newsletter here.
The plan's ambitious vision came from the Our Balbriggan survey which saw over 25% of residents get involved and overwhelmingly choose to transform the Main Street and connect it to a reimagined Harbour area.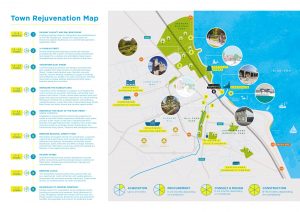 The initial programme of 20 things in 12 months has been largely achieved, even with the current restrictions, and Fingal County Council has restated its commitment to the delivery of the objectives of the €30 million plan.
Significant investment has been made to date, with two new playgrounds, a skate park and an extensive refurbishment of Balbriggan Library, and the repurposing of a vacant shopfront as an Our Balbriggan Hub, signalling the initial physical improvements.
The Council has purchased a building at 2-4 Dublin Street to develop into a creative arts and digital space, strengthening the public and civic quarter of the town and is close to completing the acquisition of two key buildings on Main Street and the harbour which are integral to this plan.
Within the next year it is anticipated the existing nightclub building will be demolished at Balbriggan Harbour and plans progressed to transform the harbour area into a vibrant recreational amenity.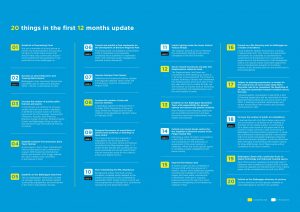 Plans are at an advanced stage to develop the heart of the town's urban core, opening up a green corridor along the River Bracken, creating a new street edge and park entrance on Bridge Street, sweeping down to a transformed Quay Street and flowing into the Viaduct area to a re-imagined Harbour.
We will see a coastal pedestrian/cycleway connecting the north of the town and Bremore Regional Amenity Park and Castle and on to Ardgillan Castle and Skerries as part of Fingal Coastal Way.
The Railway Street improvement scheme will provide better flow and connectivity to the town's most valued asset, its beach. The Our Balbriggan Hub, which opens this month in George's Square, will be the engine room of the rejuvenation scheme and a constant link between the plan and the people of Balbriggan.
Designed as a multi-disciplinary space, the hub will accommodate small gatherings and develop new networks in areas identified in the plan.
There you can meet the dedicated Our Balbriggan team, who, along with your sports and community officers, have been working with stakeholders to improve the level of services, events and investments as part of the plan.